Hans Klok Loves La Belle Terre!
Dutch Magazine by Anne van Driel
Dutch magazine De Volkskrant profiled a day in the life of Magician Hans Klok including a stop at his favorite breakfast place, La Belle Terre Bakery and Café!
When Hans Klok wakes up in the morning, he sometimes thinks: 'Great! I just live in Las Vegas! " In fact, he thought that every day for the past two months. But when you tell the illusionist that there are people – quite a significant number of people – who find Las Vegas hell on earth; who do not want to be found dead in this desert city where it will be 40 degrees on a day like this, and where the masses nevertheless roam across The Strip, past the cardboard reality of a casino in the shape of the Paris Opéra or a mega hotel in the shape of the New York skyline, then Hans Klok says: "Oh, but I absolutely understand that."
'You get mad at The Strip too. You have to see it this way: it's King's Day here every day, so busy. And everything is fake, everything is fake. Everything here is made of plastic. Even the sounds of the crickets are not real, did you know? Just take a look at the planters. There are speakers between the plastic plants. With cricket gadget. "
'You are only one step away from the gutter here. If it doesn't work in Vegas, then you are really wrong, right. I have seen good artists who are in very poor halls here. And have you seen that documentary on Netflix, about people who no longer have the money to go home due to gambling debts and now live in the drainage pipes under the city? '
Yes, that is all Las Vegas. But Las Vegas is also: that amazing history. "How this city is set up here in the middle of the desert. The whole mafia story of course. Frank Sinatra, Sammie Davis Jr., Dean Martin: all those people who made Las Vegas great. Elvis, not to mention. And Siegfried & Roy, my great examples, who have performed here for thirty years. People came to Vegas specially to see Siegfried & Roy. "
And that everything is fake, oh well, that can annoy you. But you can also let yourself be carried away in the false world that has been built here with power and strength, you can also immerse yourself in the fantasy that has been built up here down to the smallest detail. Do not tell an illusionist that unreal cannot be compelling.
'I always create appearances myself: you can't fly, you can't take your head off and put it back on afterwards. So this city attracts me. " Which does not mean that Klok does not see the shadow sides of Vegas, on the contrary. "I have the sobriety that many people from North Holland have."
"I'm really from Purmerend," Klok will say later today. "But I really am Las Vegas. I would not know a performer from the Netherlands who is more at home here than I am. " Laughingly: "I think Anouk left after a week."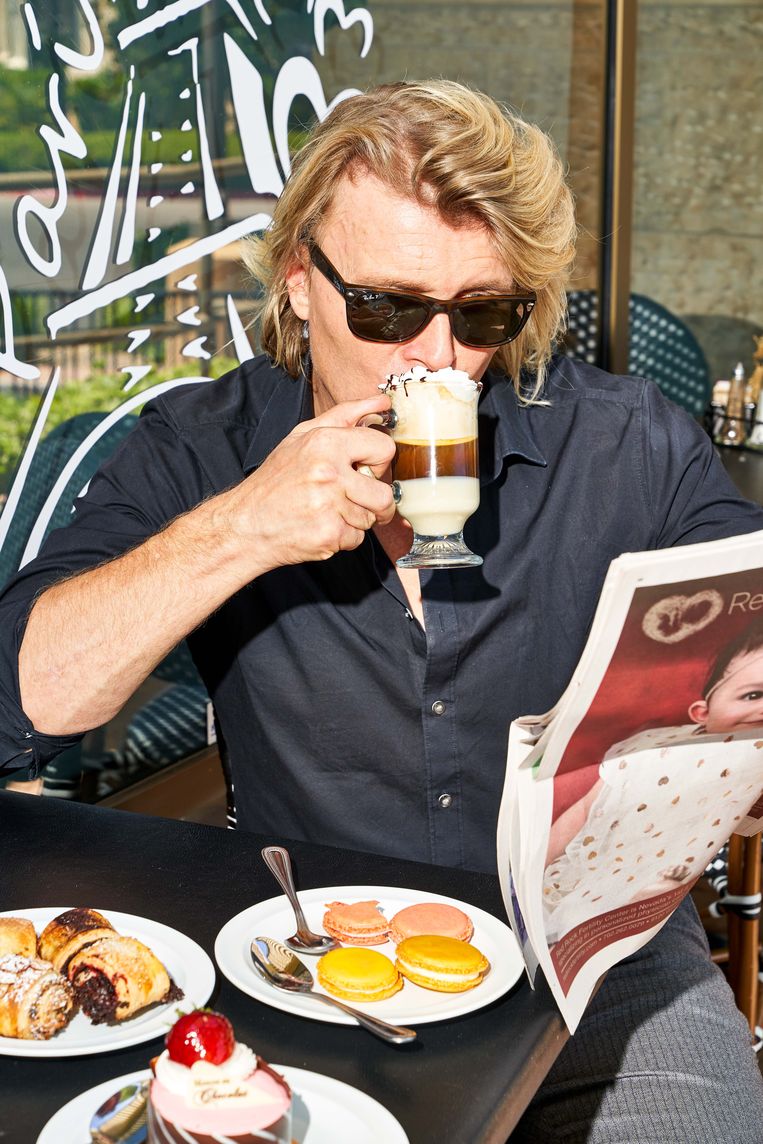 We have an appointment at La Belle Terre Bakery and Café, right on the West Sahara Avenue. "This is my favorite place for meetings and marketing things," says Hans Klok (50). The coffee is American, but the pastry is dazzling. "And such nice people work there."
The bakery is not far from the house that Hans Klok and his friend Dann van Ling (28), also an illusionist, recently moved into. 'As far away as possible from the craziness of The Strip. Near the Red Rocks, a nature reserve with red mountains. I live in a kind of Melrose Place: a residential community with a fence around it, with a communal gym and swimming pool. In a wonderfully peaceful environment. "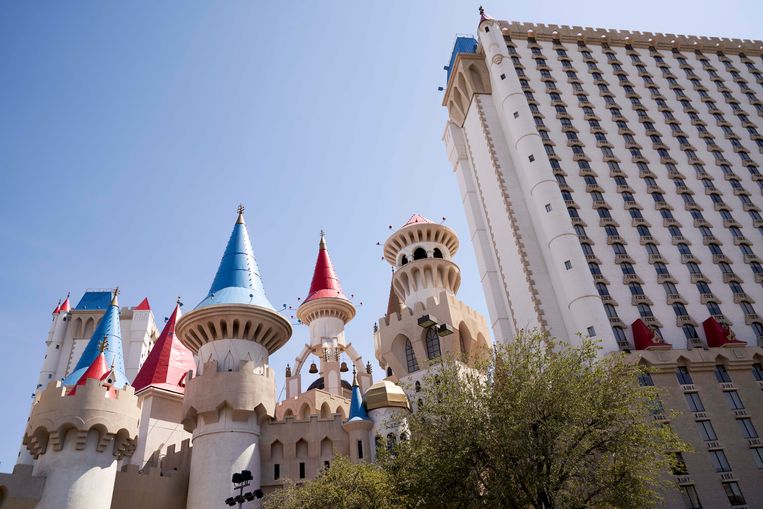 Because Klok's future lies in this city. From July 29 he will perform in Vegas with his new show, The World's Fastest Magician. Klok signed a ten-year contract with casino owner MGM, with the Dutch businessman Marcel Boekhoorn (Ouwehands Zoo, Hema) as investor. He will play a show in Excalibur six nights a week, and two more matinees will be added at the weekend. "With the possibility of expanding it to twelve shows per week." In addition to David Copperfield and Chris Angel, Hans Klok will be the third major magician on The Strip.
He starts in a room for 450 people, a kind of night club, with tables and chairs and drinks during the performance. "Very intimate. And if it is a success, I can continue to grow: MGM has twenty casinos and hotels with rooms in all sizes here. '
He also tried it twelve years ago. Then with Stage Entertainment by Joop van den Ende, and Pamela Anderson as the assistant to be cut through. 'At that time I immediately started in a room with 1,500 seats. I filled 700 of them. That wasn't bad in itself. But of course the room was half empty. " After six months, Klok returned to the Netherlands.
Two years ago it started to gnaw again. 'I was 48 years old and thought: what do I want? Do I want to live out of a suitcase forever? " Klok toured throughout Europe with major productions. 'It's great, but in every country you have to generate publicity, give interviews and attract an audience. And you live in a Nightliner, such a big bus, that's really camping. Then you walk in the morning with a toilet roll under your arm in an Ahoy-like location to look for a shower. "
And so he thought, "Actually, I'd really like to go back to Las Vegas."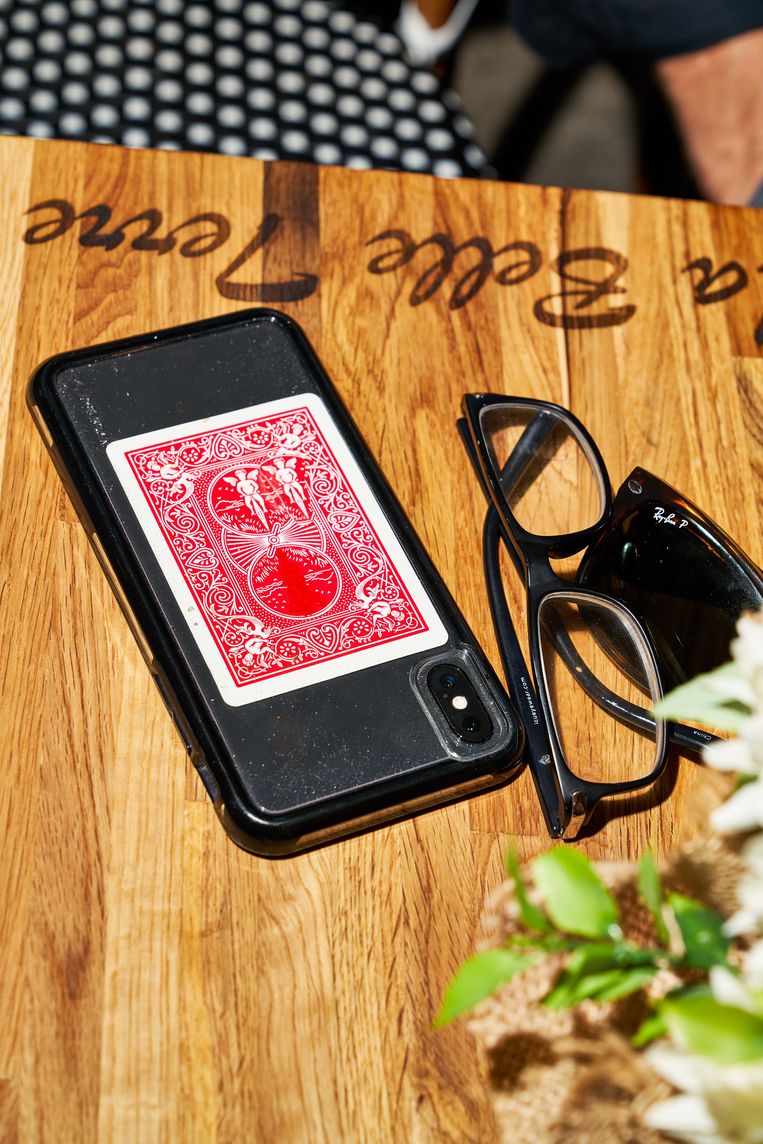 This is the mecca for illusionists. Here are the workshops where tricks are developed, here is a School of Magic, here the best illusionists in the world want to perform. We are standing in front of the Siegfried & Roy Monument, an outrageous tribute to the German-American illusionist duo and one of their white tigers. "And these are the true founders of magic on The Strip," says Klok. "These are my heroes." 'By the way: this statue looks like bronze. But it's just plastic. "
"Siegfried and Roy met on a cruise ship," says Klok. "They fell in love, which was not done in the 1950s, and started a magic act. Roy, who grew up in a zoo, soon found: those stupid pigeons, we have seen that now. He brought a cheetah to the ship illegally. The duo were fired the same evening, but they were immediately world news. "
When Siegfried & Roy came to Vegas in 1967, they raised the status of magic: instead of an act with topless dancers, they developed slick spectacle shows full of disappearing tricks with white lions and tigers. The duo became so successful that the Le Mirage hotel was built especially for them in 1990; they had the most popular Vegas show of all time. It was also the place where it went wrong, in 2003, when a tiger attacked Roy and almost bit his throat.
Hans Klok has its own unique style. If he should describe it, then like this: 'Hans Klok, that is the man with that hair and those wind machines and those women and that blouse that is far too open. And if I can base my style on anything, then it's on Siegfried & Roy. The flair with which they did everything, the movements, the spectacle, the speed. They were the first to show illusions very quickly. They already understood in the 1960s that people no longer had an enormous concentration arc. And they formed a team around them: directors, costume makers, dancers. Surround yourself with giants, not with dwarfs. They were ahead of their time. "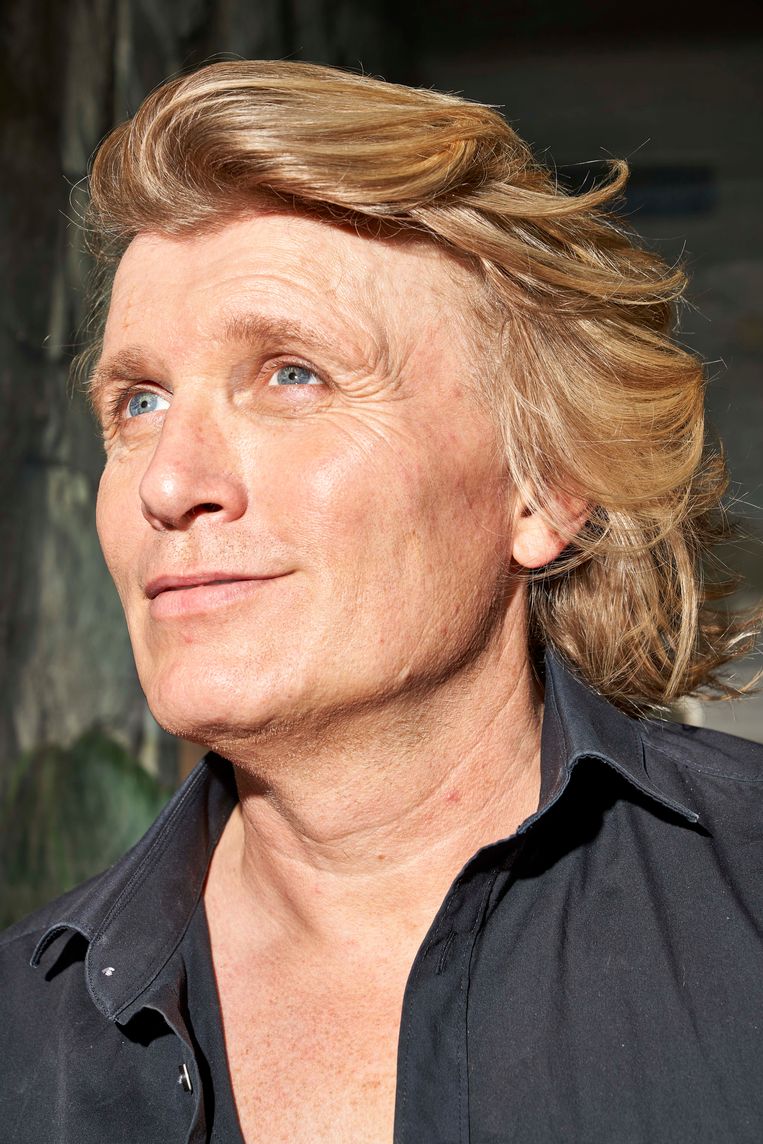 While we go about The Strip, Klok turns out to be a walking Vegas encyclopedia. 'Oh look over there! Hotel Flamingo! There, The Supremes had their last concert in the old composition in 1967, before Florence Ballard was kicked out. " Or: 'During the construction of Hotel Bellagio, investor Steve Wynn heard that he would be blind within a few months. That is why everything had to be in fifth gear, so that he could see the replicas of Van Gogh paintings in the hotel in time. "
Klok reads a lot: about this city, about the history of entertainment and the role of Vegas in it. And he attended many shows, for inspiration and for fun. In the car, he explains how the city was created along a lonely highway in the Mojave Desert, where brothels and gambling palaces were built in the 1940s – mostly run by the Mafia. And where from the sixties singers tried to give their career a new turn: Frank Sinatra, Elvis. Hans Klok summarizes their respective successes: "Las Vegas makes you great or Las Vegas makes you die."
From dusty gambling city to glamorous night club city. And in the 1990s, Vegas transformed once again: into an amusement park city with thematic mega hotels. 'In Ceasars Palace you were served by staff in Roman robes, in Hotel Aladdin everything was very oriental, like in Thousand and one night . Little is left of that, I think that's a shame, "says Klok.
We are in front of the famous Bellagio Fountains, which perform an impressive choreography every half hour, with light and music, some water jets reach a height of 140 meters. 'In the past several hotels did such a show on the street. If you didn't have tickets for a show in a hall, you could go to The Strip for a kind of continuous outdoor show. The fountains are unfortunately one of the last examples of that. "
Hans Klok walks to the Excalibur, the casino-cum-mega hotel with four thousand rooms in the shape of a fantasy castle, where he will have his own show in the specially converted Thunderland Showroom. 'This is the nicest casino on The Strip. Because of that medieval atmosphere. When the word Excalibur fell during the negotiations with MGM, I thought: help! Because you see here men with such bellies, rather the rednecks, who just walk through that casino with bare torso and a beer. On the other hand, it is a real family hotel, based on children – and of course they see me as a kind of Harry Potter, who want to go to my show. It is really a cozy, old school hotel that has been around for almost thirty years. That is old for Vegas. "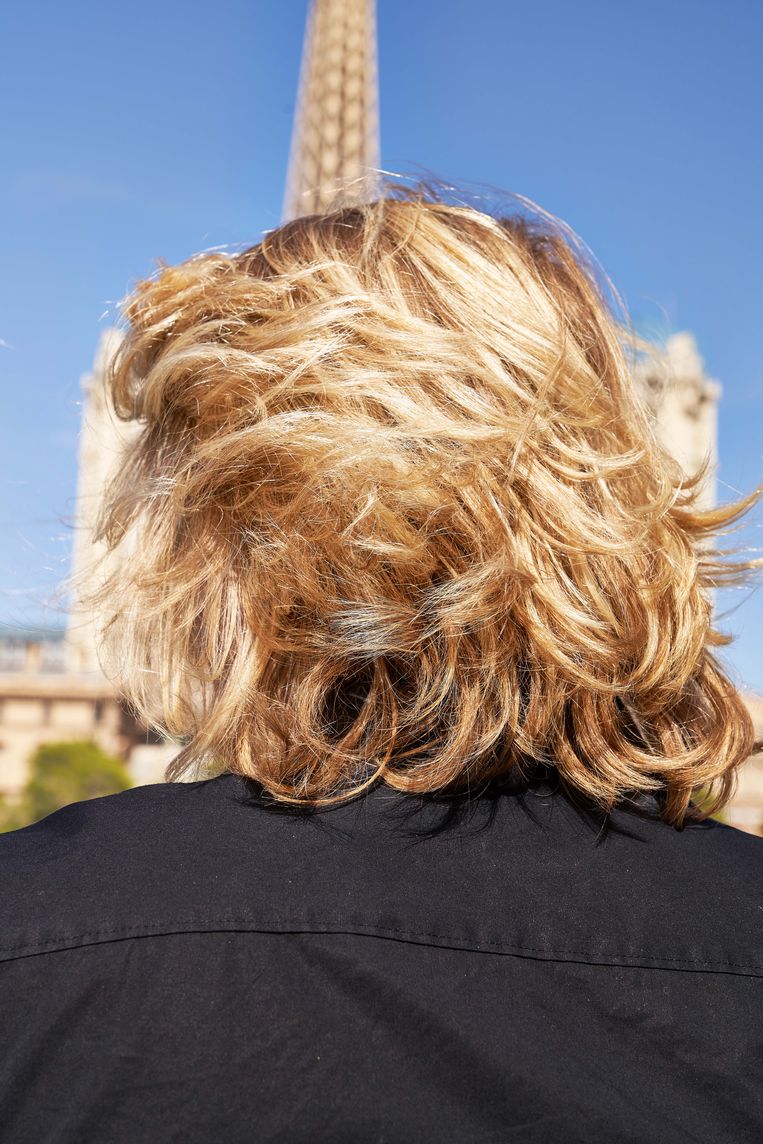 The entrance to his Thunderland Showroom is between stores such as Popeyes and Starbucks. Klok shares the room with The Bee Gees and with Thunder from Down Under, a kind of Australian Chippendales. "It's a little different than Carré," laughs Klok, "I've been there for a total of six months in the last six years. Of course that has more grandeur. There stood Josephine Baker, Herman van Veen, Michael Jackson with his brothers and all the big circuses. You feel the magic of that theater, but you can't perform for years. You can stand here for years, because there is always a new audience. "
The publicity is also flatter, says Klok. 'You have to imagine, Las Vegas is a funfair. You have 15 euros in your pocket, and then you decide on the spot: do I go to the haunted house, the Ferris wheel or the grab machine? Las Vegas consists of impulse purchases. " The publicity here is therefore massive. And it starts much later. 'My first show is July 29, the commercials – the head of Hans Klok on taxis, billboards, newspapers – starts on July 27. Earlier it makes no sense: the people who are in Vegas a week earlier are already gone when my show starts. That's sorted out, right? The average tourist stays 1.3 days. "
He leads around the building under construction. There comes the stage, there the bar, there people will soon be sitting at tables with a drink. 'I love this place because I started playing in clubs and night clubs when I was 17 years old. They are all no longer there now. You still have the Moulin Rouge and the Lido in Paris, but the rest is gone. It is also a bit back to the fifties. Remember, Sinatra and Elvis: they also performed for four, five hundred seats. And that is coming back. It is the new trend: people want more intimacy. Performances don't have to last that long either; people want to do more on an evening. "
In ninety minutes he will perform some fifty or sixty tricks. Small, but especially large acts, in a spectacular show, with lasers and choreography and dancers in addition to his three permanent assistants. "That form is dying out," he says. The generations after him mainly concentrate on close up and stand up illusionism. 'Smaller acts that you can practice in your bedroom on your own. What I do – I lie down on a sword and suddenly I fall through it – you have to have ten people to start with, to start with. "
His show becomes a journey through the history of magic. With the floating light bulb from the American illusionist Harry Blackstone Sr. from the 1920s, for example, and the trick with swords through a cardboard box from German legend Hans Moretti from the 1970s. In the center of the room there will be a smaller stage where he – 'as the only magician on The Strip' – surrounded by the public will let someone float. And at the end of the performance, Hans Klok will let thousands of butterflies fly over the audience. "Not real, but they seem real."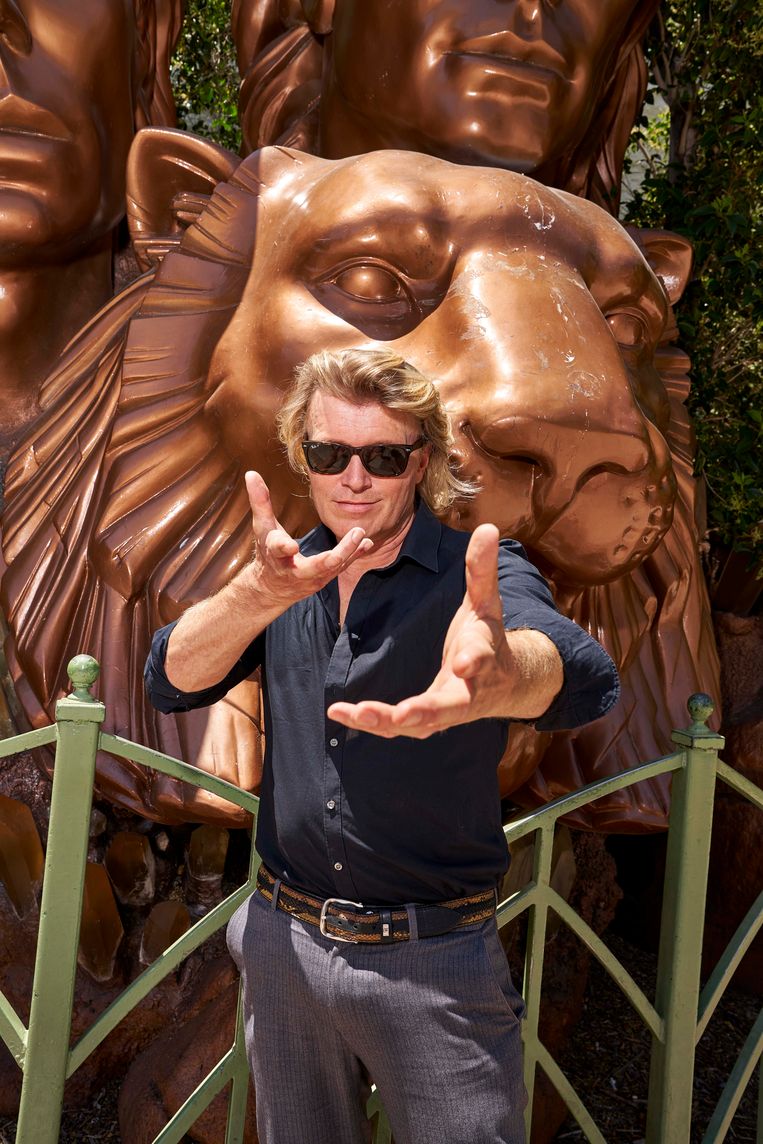 "The whole show is about dreams," says Klok. "About the American dream, actually. About a boy from Purmerend who goes to Amsterdam and dreams about a show in Vegas. It is not very clear, though. We are not trying to do Shakespeare. But there is a storyline for those who want to see it. "
We settle down for a late lunch on the covered terrace of Mon Ami Gabi, a French bistro overlooking the Bellagio Fountains. Klock comes here 'very often'. The waitress already knows what he wants to drink: "a Heineken." And what to eat? she asks Klock. 'An onion soup, without cheese. And a mac n cheese, but then again with cheese. "
"This is the big thing, " says Klok, his dream has come true. Nuchter: 'Then the next dream is to keep it up for a long time. The audience must of course still come. "
If he manages to last ten years, it can save him millions of dollars. If he quits faster? "Then I don't get that chance a third time. Then I have to go home with all my stuff. And build everything up there again, because people have forgotten you so quickly. Do I still want that? Yes, I have to. Or I can also start a chip shop at IJmuiderslag. "
Is it about fame? Klok: 'If I had wanted to be world famous, I would have been better to become a singer or film star. Goochelen is a kind of volleyball, it never becomes football. And being famous is nothing. You are so used to it again if you have no familiarity. Here I am nobody and I have to pull it again.
'You know, I just really like performing. Which place on earth can you perform every day? Moreover: a director leaves a film, a writer leaves a book. ' But an illusionist, says Klok, leaves nothing behind, it only exists in the moment. "Magic is no more than an experience."
HANS KLOCK TIPS
La Belle Terre Bakery and Café , 8390 W Sahara Avenue. French-inspired bakery located on a typical American 'plaza': a parking lot along a motorway. Traditional breads, dazzling pastries. "Nice people."
Monument to Siegfried and Roy , 1403 S Las Vegas Boulevard (in front of hotel Mirage). More than life-sized heads of the legendary illusionist duo and one of the white tigers with which they performed. Klok: "Looks like bronze, is just plastic."
Bellagio Fountains , 3600 S Las Vegas Blvd (in front of hotel Bellagio). Famous fountains that perform a music choreography every half hour. (From 3 pm. Sat and so from 12 am and 11 am. Until midnight).
The Thunderland Showroom , 3850 Las Vegas Blvd (in hotel Excalibur). Nightclub-like venue where Hans Klok's show The World's Fastest Magician will open from 29 July.
Mon Ami Gabi , 3655 S Las Vegas Blvd (at the Paris Las Vegas hotel). French bistro with covered terrace and view of The Strip. Favorite? "Onion soup without cheese."
OUTSIDE THE WALK
Red Rock Canyon National Conservation Area . Nature reserve with whimsical rock formations of red sandstone, only half an hour's drive from The Strip. "I want to go hiking and skiing here."
Egg Works , local chain where Hans Klok often gets breakfast. Serves purely egg dishes, touted by puns with egg (Egg-ceptional omelettes !, Great egg-spectations!)
Wing Lei , 3131 S Las Vegas Blvd (at Wynn Hotel). "Las Vegas is called the culinary capital of America. There are many Michelin stars here, all major chefs have a restaurant here. I have been to that star restaurant in The Wynn a few times. Not anymore, though. I live here now, I also have to pay attention to my money. We cook a lot ourselves. "
CV HANS KLOCK
Hans Klok (Purmerend, 22 February 1969) received a magic box when he was 10 – and the rest is history. In 1994 he first appeared on The Strip in Las Vegas, in the live TV show The World's Greatest Magic. In 2007 he had his own show in Vegas for six months, in which Pamela Anderson assisted him. Hans Klok toured Europe, China and Japan with major productions. At the beginning of this year he was knighted as an Officer in the Order of Orange-Nassau.